Hot Redemption
by K.D Penn
(pseudonym for Kenya Wright and D.T. Dyllin)
Publication: December 12th, 2013 by Dragonfairy Press
Genre: Cyberpunk Erotic Romance


Epic and his brothers don't rob strip clubs for fun or fame, but to use the electronic currency to take care of their family. With androids and robots flooding the job market, it's almost impossible for humans to find work. Besides, stealing comes easy to the gang, until Phoenix steps into their lives, snatching away their bounty and fogging up Epic's mind with her seductive scent.

Shots blare. A chase ensues. Both sides refuse to yield. And the small compromise that comes is brought by chains and a promise for a bigger hit—on a planet far away from earth.

Can Epic and Phoenix work together to rescue themselves from poverty? Or will they find another type of redemption, one lathered in lust and warmth, pleasure, and the type of undemanding love that no human can live without?
Hot Redemption
was invigorating, the overall feel and world so unique that I couldn't put it down. Set in the future with Earth being the "ghetto" of the universe and with politics and social issues that are universal in themes and scope, the story revolves around a band of brothers robbing clubs to feed their family. It's not a story full of strong propaganda but of unyielding familial love and lust for life and so many other things.
The world-building and pacing was wonderful, a perfect blend of action and hot romance without losing the sci-fi feel. It reminded me of the movie
The Fifth Element
, a little insane and quirky yet totally standout awesome. The characters had depth, surprisingly distinctive despite how many family members there were. I really appreciated how imperfect Pheonix and Epic were. Pheonix, or "Nix," is crazy. She will stop at nothing to get what she wants and protect what she loves. Many of her actions shocked me, but in a good way. Her and Epic are far from the typical protagonists, and I found their impulsive choices refreshing, if not a little insane. And while the story was written by two people, I couldn't tell. The writing was fluid and descriptive without be overly so.
I do wish the book was a little longer, that there were more details about the robots, how they dominated society, and that the story didn't wrap up so quickly. I also found it hard to believe the brothers weren't caught beforehand, considering all the money they stole was electronic. Wouldn't there be a trail, some kind of trace?
Other than that,
Hot Redemption
was a cool world to be in. I enjoyed the simple yet unique storyline, the new dynamics and mix of the genres, and the characters who were a little messed up but lovable. I'd definitely recommend it to anyone who loves sci-fi and contemporary romance or erotica, looking for something entirely new.


eARC provided by Dragonfairy Press. Thank you!
---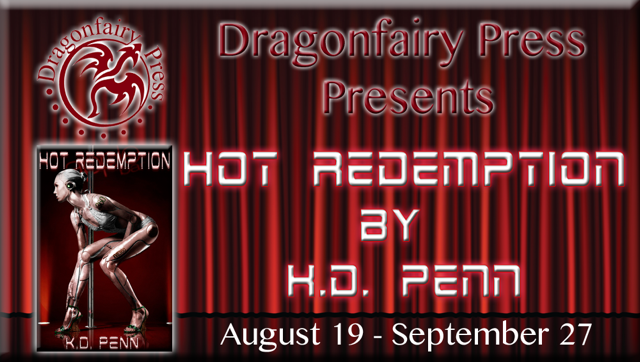 ---
K.D. Penn is the pseudonym for the writing team of Kenya Wright and D.T. Dyllin.
D.T. Dyllin
Her Website | Twitter | Facebook | Goodreads
Cynical-Optimist. Chocolate-holic. Sarcasm Addict. Paranormal Believer. Romance Junkie. Self-imposed Insomniac. Animal Lover. Writer. D.T. Dyllin was born and raised in Pittsburgh, Pennsylvania. (Black & Gold for life, baby!) And now she lives in Nashville, Tennessee, with her husband and two very spoiled GSDs.
Kenya Wright always knew she would be famous since the ripe old age of six when she sang the Michael Jackson thriller song in her bathroom mirror. She has tried her hand at many things from enlisting in the Navy for six years as a Persian-Farsi linguist to being a nude model at an art university.

However, writing has been the only constant love in her life. Will she succeed? Of course.

For she has been coined The Urban Fantasy Queen, the Super Iconic Writer of this Age, The Lyrical Genius of Our Generation. Granted, these are all terms coined by her, within the private walls of her bathroom as she still sings the Michael Jackson thriller song.

Kenya Wright currently resides in Miami with her three amazing, overactive children, a supportive, gorgeous husband, and three cool black cats that refuse to stop sleeping on Kenya's head at night.