Off the Record
by Sawyer Bennett
Book #3 of the Off series
Publication: June 11th 2013 by Big Dog Books
Genre: New Adult Contemporary Romance
Amazon
B & N
Goodreads

The sparks of dislike burn hot, but the sparks of mutual attraction burn even hotter.

Ever Montgomery suffered the ultimate betrayal by the one man who she should have been able to count on for anything. It has left her hurt, jaded and incapable of forming relationships, but it also means that she can spot a liar a mile away. These traits are earning her a reputation as a reporter with a keen nose for a good story and a complete understanding of the extreme power of the written word.

Lincoln Caldwell, is the hot goalie for the New York Rangers. At twenty-four and a rising star, he works hard and he plays even harder. He's gorgeous and carefree—the ultimate charmer. Ladies fall at his feet and the single life has never been lived the way Linc Caldwell does it.

When Ever publishes an article about Linc containing information that she received off the record, she finds herself on the receiving end of the athlete's fury. Rather than basking in the glory of exposing Linc as a shameless user of women, she finds herself at his mercy when he demands and receives retribution. Required by her editor to trail Linc for six weeks, Ever is forced to look at the real Linc Caldwell.

And she just might find that she has misjudged him.


From Off the Record
"I said you look hot in those glasses. You look sexy-smart. A killer combination."
"Don't fuck around with me, Linc. I'm not falling for your lines." I'm pissed at myself that his words affected me and I'm pissed at him for trying to affect me.
He shrugs his shoulders at me as he separates the eggs. "It's not a line because I don't expect anything in return. It's the truth of what I'm thinking right now. I tend to say what's on my mind."
His compliment should warm me, particularly because I'm sure I look less than stellar right now. Instead, all I can think is that he probably uses similar lines on all the women he comes in contact with. Unfortunately, I tend to say what's on my mind too.
"Did you say something sweet like that to the woman that gave you a blow job Friday night?"
Linc looks up from the eggs and his eyes are hard. I swallow nervously.
"I told you that I did not get a blow job from one of those women Friday night." He steps around the counter and walks up to me, leaning his face down close to mine so he can look directly in my eyes. His voice is low and deliberate. "But I did fuck that woman you saw me with in my bedroom, and I fucked her hard and more than once. That's after I got her off with my hand. You remember that part, don't you? Now, that's the truth."
He stares at me for just a few seconds then walks back to his eggs. But he's not finished with me.
His voice is no less deliberate but the physical distance that is back between us makes the words sound colder. "And you can look at me all you want with contempt, but I don't apologize for who I am. You have no right to judge me or my sex life. I will share this with you now, and then I'm done talking about it. I do not randomly hook up with a lot of women, but I do hook up with some. I'm a single guy. It's what we do. But I'm safe, and I'm cautious as to who I'm with, and I'm damn selective. If you have a problem with that, fine ... write about it. But don't paint a picture of me that's inaccurate."
---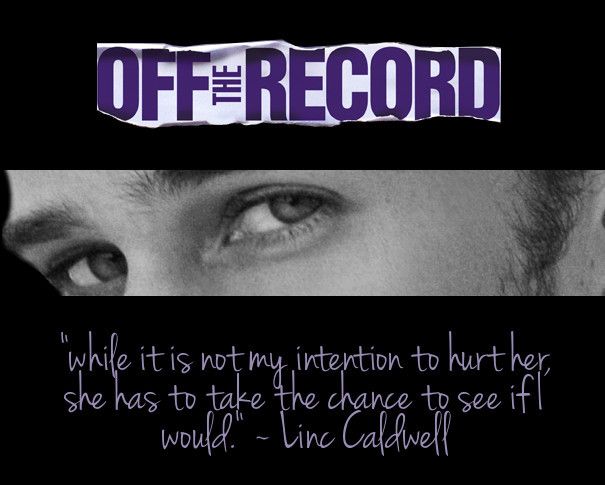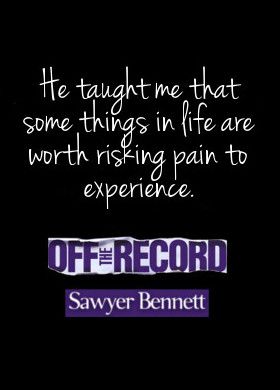 ---
Off Sides
Book #1 of the Off series
Publication: February 21st 2013 by Big Dog Publishing
Genre: New Adult Contemporary Romance
Goodreads
B & N
Amazon

"I'm not sure what possessed me to do it. Maybe it was the impossible expectations I faced, maybe it was my own self-loathing. But I just knew I needed something different to happen. I needed someone...something...to derail me from my current path. Otherwise, I would become lost ... a hollowed out shell of a man. So I did it. I approached her, then I pursued her, then I made her mine. And my life was saved ..."

Ryan Burnham is the privileged son of a U.S. Congressman and captain of his university's hockey team. While he is on the verge of fulfilling his dreams to play in the NHL, his parents want him on a different course. One he is expected to accept for the sake of his family's public image.

Forced her to abandon her music career after the heart breaking death of her parents, Danny Cross exists on the opposite side of the tracks from Ryan. She is struggling to make her own way, working two jobs, attending college part time and volunteering in a homeless shelter. She is on a mission to build her own success.

With a chance meeting, their vastly different worlds collide, causing each to evaluate whether they are truly on the correct path to self-fulfillment and happiness. Can their relationship survive? Particularly when others are against them every step of the way. A lot can happen in just ten short days ...
Off Limits
by Sawyer Bennett
Book #2 of the Off series
Publication: April 16th 2013 by Big Dog Books
Genre: New Adult Contemporary Romance
Amazon
Goodreads

"There is a vulnerability there, hovering just below the surface. And I want to pick at it until I expose it. Then I want to kiss it."

Two years ago, Emily Burnham, had an epiphany about the shallowness of her life. And she made it her mission to become a different person ... a better woman. Out from under the controlling thumb of her mother, Emily is tasting the real world for the first time. And she likes it.

Nixon Caldwell has served his time in the Marine Corps, surviving two brutal tours in Afghanistan. He is back home, surrounded by what he likes best ... isolation. It's certainly the best way to avoid confrontation of the consuming guilt that is weighing him down.

When an accident brings Emily and Nix together, he soon learns he is not the master of his own fate. Struggling with his own pain, Nix tries to guard himself against Emily's charms. He wants her in his bed, but he doesn't want her in his heart.

Having grabbed life by the horns, Emily wants it all. But is she willing to accept just the small part of himself that Nix is offering? Can she reach the part of his soul that he has deemed to be off limits?

Off Limits is the-follow up novel to Off Sides by Sawyer Bennett. However, Off Sides can be read as a stand-alone.
---
Sawyer Bennett is the pen name for a snarky southern woman and reformed trial lawyer who decided to finally start putting on paper all of the stories that were floating in her head. She is married to a mobster (well, a market researcher) and they have two big, furry dogs who hog the bed. Sawyer would like to report she doesn't have many weaknesses but can be bribed with a nominal amount of milk chocolate.
---

Winner's choice of 16GB Kindle Fire 7" HD ($200 retail value) or Amazon gift card of same value
Color 8x10 of book cover signed by Sawyer Bennett and Jay Byers (cover model)
US Only
---
Terms & Conditions:
♥
By entering the giveaway, you are confirming you are at least 17 years old.
♥
One winner will be chosen via Rafflecopter to receive an eBook copy of
Off Sides
and
Off Limits
, book one and two of the
Off
series by Sawyer Bennett. Winner's choice of mobi or ePub format.
♥
Winner will be contacted via email within 48 hours after the giveaway ends at 11:59pm EST June 19th and has 48 hours to reply before a different winner will be chosen.
Note: You do not need to own an eReader device to enjoy Kindle or Nook books. Download free Kindle apps here and
Nook apps here to start reading eBooks on major smartphones, tablets, and computers.