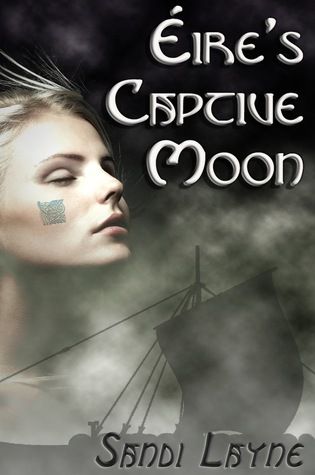 Éire's Captive Moon, the first book of Sandi Layne's Éire's Viking Trilogy, brings you to the unsettled era of the early Viking raids along the coast of Éire—today's Ireland.

A wounded refugee from the violent Viking raids on Éire's coast is healed so well by Charis of Ragor that Agnarr captures the moon-pale woman for his own and takes her home to Nordweg to be his slave.

Also captured is Cowan, a warrior gifted with languages. He is drawn to the healer of Ragor and finds himself helpless before her. In more ways than one!

Through the winter, Charis plans a fitting vengeance upon her captor for the men he killed. She also prepares to return to Éire and the children she left behind.

But will her changing feelings interfere with these plans? When two men vie for her heart, will she give way before either—or both?
---
---
Captivating.
From the very first page,
Éire's Captive Moon
transports the reader to the shores of Éire (Ireland) during the early Viking raids in late Antiquity. I was immediately drawn in to the time and setting with the beautiful starting prose on nature and the land, on the Irish people, culture, and mythology; it lends a mystical air that almost feels more fantastical than historical, for the story seems otherworldly as Achan, a male healer, traverses through the forest and is drawn to a cave, where Charis, the female protagonist, is born.
Years later, Charis is married and leading a peaceful life as a healer when red-striped sails appear on the horizon and her village of Ragor and the nearby monastery are raided for treasure and slaves—Charis being one of them. Agnarr Halvardson claims her for his own personal medicine woman as well as sex slave, while his overlord, Tuirgeis, captures a Christian (and local prince) named Cowan to serve as a trading translator.
After watching her village demolished and both her husbands killed by Angarr, Charis sails with the
Vikingr
to their home in Nordweg, along with Cowan and the few remaining whom are sold along the way. Cowan, like so many others, is captivated by Charis's moonbeam hair and ethereal beauty. But while he is attempting to stay alive and learn what God has planned for him as a slave to the foreign overlord, Charis plans her revenge on her master and how to get back to the children she hid and left behind in Éire.
Then an invasion from another band of warriors brings Cowan and Charis closer together in Nordweg—as well as she to Agnarr.
My love for the characters is one of the things that astonishes me most about this book. They are charismatic, consistent, and so well written that I can't help but like them even when I feel I shouldn't. Agnarr with his raping and pillaging, Tuirgeis with his shrewd observations, Charis's outwardly cold demeanor and immovable views, Cowan's resignation and forgiving nature—aspects that are either deplorable or frustrating, and yet, I still rooted for each person and couldn't decide a side. While I knew who the "enemy" was, my heart was torn. Not everything—if anything—is black and white, whether pertaining to theology or mythology, one country or another, one man to the other.
Sandi Layne
delivered a spectacular, action-packed book that not only encompassed such a theme (in my opinion) but also
showed
a journey with authenticity. It wasn't only history but what could be a version of an untold
story
—rich with details. The research that must have gone into this book—from herbolism to sailing, the geography to the battle sequences, the various cultures and the languages (which Sandi Layne brilliantly weaved and transcended across the barriers)—it still astounds me! I'd recommend
Éire's Captive Moon
to anyone who loves Historical Fiction with a dash of Romance and (maybe) a little Fantasy-esque feel. As a lover of all three genres, I'm putting
Éire's Captive Moon
on my favorite shelf.
Thank you to
Sandi Layne
and to the publisher,
The Writer's Coffee Shop Publishing House
, for allowing me the pleasure to read the ARC of
Éire's Captive Moon
. I've found a new series to fan-girl all over and am (impatiently) looking forward to the rest.

LUV'NV Rating:

Amazon.com Rating as 10/19/2012: Not yet available
Éire's Captive Moon will be available on January 10, 2013,
with the book trailer released on November 29, 2012.
"Like" Sandi Layne on Facebook to stay updated on all her book news.
Are you a Goodreads member? Add Éire's Captive Moon to your "To Read" shelf!